New Patient
Center
Here you'll find everything you need about Aspen Veterinary Clinic and how we can help you.
The forms below will help us get started. If possible, please print and fill these out before your visit.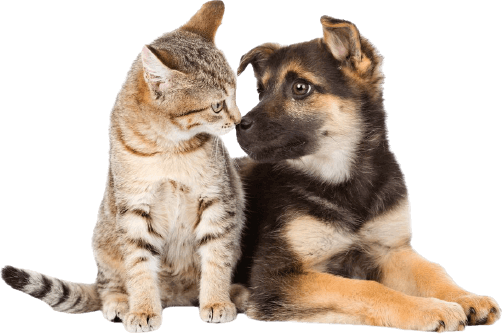 About the veterinary center
When you are looking for a veterinary care clinic you should be able to count on superior care and excellent service. We at Aspen Veterinary Clinic in Spring Creek NV have assembled an expert team of veterinary professionals to bring you the best possible healthcare for your pet. We have a state of the art veterinary facility which is clean, comfortable, and efficient. Call 775-753-9111 to schedule an appointment and we will find a time that is convenient for you.
Once a year, you should take your pet in for a check-up. This will include a full physical exam, and may include teeth and gum cleaning if needed. Dr. Kathryn Moriarty will check the health of your pet from head to tail, and you will be very happy you came to Aspen Veterinary Clinic for service.
Bring in any medical history you have of your pet when you come to our vet clinic. It's best to keep a journal of your pet's health throughout his or her life, including behavioral shifts. If you have something like this, share it with our team. If not, let us know everything that you think will be important. Dr. Moriarty can still work with whatever information you have.
Veterinary Resources
American Animal Hospital Association
www.aaha.org
American Board of Veterinary Practitioners
www.abvp.com
American College of Veterinary Internal Medicine
www.acvim.org
American Kennel Club
www.akc.org
American Veterinary Medical Association
www.avma.org
Association of American Veterinary Medical Colleges
www.aavmc.org
Agility Information
www.cleanrun.com
Center for Veterinary Medicine- U.S. Food and Drug Administration
www.fda.gov/cvm/

Choosing a new puppy
This is a nice starter guide of things that you should consider when you are thinking about getting a puppy
Breeds of Dogs
A quick reference guide to many breeds of dogs, including photos and brief descriptions of each breed's characteristics.
Heartworm Society
Everything you ever wanted to know about heartworm disease can be found here!
Behavior problems
Founded by Brian Kilcommons and Sharon Wilson, best-selling authors and recognized experts on animal training and behavior, this site is a terrific resource for advice on a variety of behavioral problems. If you want to learn more about feline housesoiling, barking dogs, aggression, or any other behavioral problem, check this one out!
Association of Pet Loss and Bereavement
We have all experienced the pain of losing a pet. The Association of Pet Loss and Bereavement has set up this site for support during this most difficult time. You will find inspirational stories, grief counseling resources, hotline number and many other resources.
National Animal Poison Control Center
This is the website of the National Animal Poison Control Center. It includes a library, links to other sites, and phone numbers for the poison control center.
Plants Toxic to Animals, Introduction — Vet Med Library, UIUC
A lot of information about toxic plants can be found here. You can search under common name or scientific name of the plant.
The Cat Fanciers' Association (CFA)
The Cat Fanciers' Association website has lots of pictures, as well as information on cat breeds, cat care, upcoming cat shows, and much more.
USDA Animal and Plant Health Inspection Service
The USDA maintains this website with information on a variety of animal health related topics, including the latest news on such things as Mad Cow Diseases, foot and mouth disease, and many other things.
Rainbow Bridge
Anyone who has ever lost a pet should visit this wonderful site. It is a terrific tribute to our lost family members
West Nile Virus
This site is maintained by the Centers for Disease Control in Atlanta, and has the latest information on the spread of West Nile Virus in the US, as well as information on disease transmission, symptoms, etc.
American Association of Feline Practitioners
The AAFP is like the American Medical Association for cat doctors, and has lots of good information regarding feline health
Payment Options
1. Payment is expected when services are rendered. In order to focus on our patients' needs, customer service and minimizing costs, we do not bill.
2. We accept debit cards, credit cards (Visa, Mastercard, Discover, and American Express) Care Credit and cash. All cards must be signed by the owner of the card.
3. When unexpected illness strikes a pet, unexpected expense strikes as well. Aspen Veterinary Clinic understands this and is able to make some special arrangements through the CareCredit program. It takes just 5 minutes to complete an application and will allow you to break down your payment into 6 monthly installments. You can either apply at our hospital, where we'll call in your application over the phone for immediate approval, or apply yourself online.
Highlights of the CareCredit program:
Low Monthly Payments (3% of the Total Balance)
Interest Free For 6 Months
Determine Approval in a Few Minutes
No Annual Fee
Insurance For Your Pets
Another popular option for your family and pet is insurance coverage. To learn more, please visit the following pet insurance websites.
Learn more about us and the care we'll be giving your pets
Contact us today and schedule an appointment